Finding a way to burn through $27,000 dollars in 6 weekends has usually thought to have been  an effort involving cocaine and South American beach parties, though I've done it with a Daihatsu Charade. Thats over 7 times the original MSRP of one!
I've been a fan of cars most of my life. Combining pragmatic engineering and art, automobiles have inspired some amazing things from both man and machine. That meant I was ready to do the highly improbable: Race a Daihatsu Charade in the 24 Hours of LeMons and Chumpcar World Series Championship. Starting with a $150 eBay 1989 Daihatsu Charade CLS, the team and I took the car from humble beginnings to something somewhat reliable and spectacularly fast around a track. We had our share of problems, though more of a lack of preparedness or applied knowledge than anything else. We've had bad suspension alignments, bad driving, bad transmissions, and bad attitudes. One thing that has held true to the whole thing is that it has been a grand adventure, to tell your kids about.
The car was a steal. A 1989 Charade 1.3L with power steering is probably the best combination to make a racing Charade out of. It combines the original 1987 chassis design before the addition of large bumper and crash structure additions, but equipped with the vastly superior 80hp 1.3L engine, compared with the 53hp 993cc engine in the base Charade models. The car featured both an automatic transmission and 16 bent valves to start with, not to mention tons of Bondo (found much later on), and totally unsuitable original suspension. Repairing wasn't good enough, it was time to improve! I dug deep into my Daihatsu spares pile (don't laugh), pulling out some nearly new axles, a manual transmission, and enough parts to make a factory-perfect manual swap. Using standard parts from Rockauto, as well as a few Internet retailers specializing in less-common parts, we basically performed all the factory required maintenance and servicing. Some adjustable Koni Sport shocks were fitted, as well as some $48 eBay coil overs for a 2G Mitsubishi Eclipse
We gutted the interior, using crushed dry ice to remove the heavy tar-based sound deadening. It worked surprisingly well when paired with a rubber mallet.
The mere utterance of the phrase "Racing Daihatsu" has rarely, if ever, been said without extensive use of irony. It was part of the driving force when preparing for the first 24 Hours of LeMons race at Thunderhill Raceway, which was on the other side of this decidedly too-long state.  We finished that race, but had tons of fun with some interesting shift behavior from some drivers.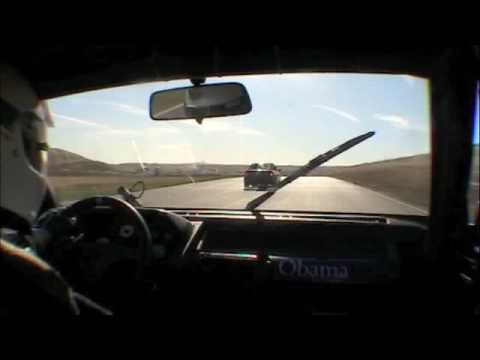 Our next race went a lot better. We were back at Thunderhill Raceway, but now with a higher mileage engine. I picked up a 200,450 mile Daihatsu Rocky engine from a junkyard in Sacramento and adapted it to fit into the Charade. We won our class at that race, narrowly beating out the engine failure prone Hooniverse BMW 633 Uberbird for a Class C win.
Our next race at Buttonwillow Racetrack was not as fun, we were T-boned and the car was out of commission for an entire year. I had to repair the car immensely, rewelding the damaged chassis and replacing the spectacularly rare Koni Sports on the car with KYBs from the UK, courtesy of Rockauto.  We made a change to the Chumpcar World Series, and our first meeting was at Laguna Seca. We finished in the middle of the pack, which itself was a spectacular goal given we were one of the lowest powered cars on the track.
Well, all good things come to and end. We had a transmission drain plug fall out, ruining the transmission and causing our star driver (he likes to think he is, anyway) to spin in turn 10, bending a tie rod and finishing our race that day. I repaired the transmission the best I could using parts from a spare 1.0L trans I had, and ventured out again to Laguna Seca. The transmission lasted one hour and forty five minutes before shredding third gear and who knows what else. Our fastest lap time that day way 1:55.1, which is a spectacularly fast time for a car with 110hp. The engine is currently spun to 7500RPM, 1000RPM over the redline of the Daihatsu Rocky it was equipped in.
Current plans involve importing a Japanese spec transmission from Australia, giving us more aggressive gearing and adds in a limited slip differential. We'll be back, and hopefully repair things correctly!